Printer3D Indonesia – Dengan
diluncurkannya UP Software v2.0, semakin beraneka ragam bentuk dari 3d model yang bisa kita buat dan kembangkan. Berikut kami berikan trik untuk
menggunakan UP Software v2.0.
Here are some major features that you may interest in.
1. When printer is extruding or withdrawing filament, platform will move 30mm lower to avoid possible filament mess around nozzle.
2. Software can automatically figure out if
'unsolid' option is necessary.
3. Added "surface printing" option to enable single layer printing. Surface printing is not recommended for models with bottom or models require inner fill structure, otherwise no bottom or top is printed.
4. Added the feature that allows pause at a specific height during a print. This feature is very useful if you want to change color for a specific design.
Pause print at a specific height does not include the height of the raft. For instance, if your print is 0.2mm Z resolution with a pause at 5mm, the pause will occur at the height of 5mm of the actual model from the model bottom.
Note: Print can't be paused for the first four layers.
Note: Pause print may not be precise as the height you specified, because the slicing layer thickness may not reach the exact height.
5. Added .UPP format, a new UP project file format, in which print parameters are saved. When opening an UPP file, print parameters set with the model previously will be loaded automatically for immediate printing. This feature will make your life easier for
multiple prints with various parameter settings.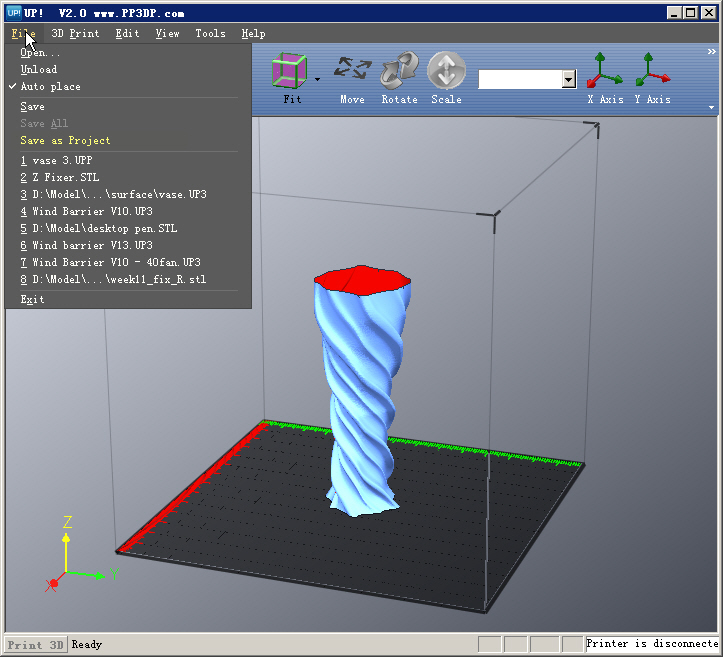 Note: Unsolid model option and time setting for platform heating after model is complete are not saved in .UPP file.
6. Data transmission boosted from PC to UP Plus 2 3D printer, taking advantage of high speed CPU. (only for UP Plus 2).
7. Automatic Platform leveling calibration & Automatic platform height calibration (UP Plus 2 only).
Sumber: pp3dp.com